Your Agritourism Destination
and Base Camp for Wild Adventure
​on the Gauley - All in One!
You can't get any more "agri-tourism" than a sheep farm with primitive camping in the Gauley River National Recreation Area!
---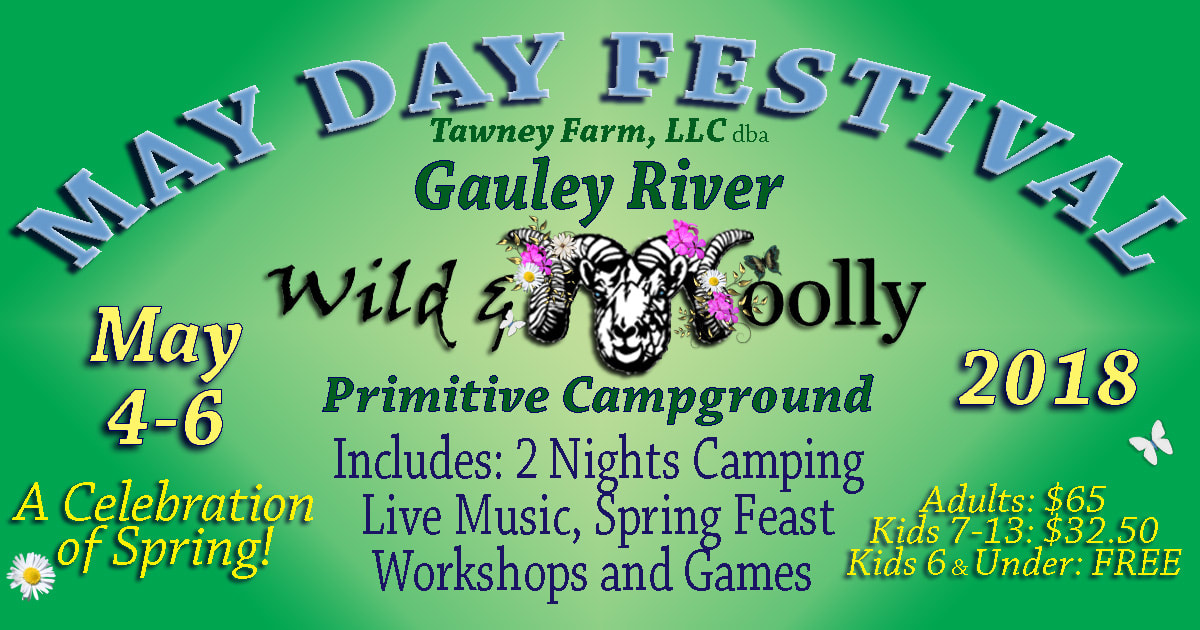 Leave the Beaten Path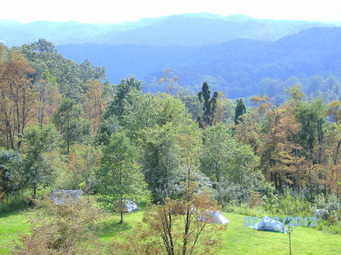 ​Why camp in an overcrowded, commercial campground when you're in West Virginia with all its untamed beauty? Experience a truly relaxing getaway to the mountains at the Gauley River Wild & Woolly Primitive Campground. Enjoy peaceful and private, safe and secure primitive camping on the Gauley. Except for Gauley whitewater season (Labor Day weekend through Bridge Day (mid-October)), we provide a totally private primitive camping experience where you will be our only guest. Drink in the beautiful views of the Gauley River gorge and hike our nature trails while experiencing the sights and sounds of a real working farm. Camp on the mountaintop in a tipi and experience incredible night skies. Or, pop up your tent at one of the shady, wooded campsites along the trail. You can even camp in one of our scenic pastures. You can also choose to "glamp" it up in our two-room cabin, The Nut House or our spacious tipi tent!
---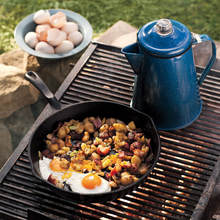 Fry up some farm fresh eggs over the campfire or grill. Park-style grills, fire pit grills and camping cookstoves are provided for you. You are, of course, welcome to bring your own small portable grill. And to make your "roughing it" camping experience not so rough, we've added a few amenities! Clean Portajohns are provided as well as a "to die for" outdoor hot water shower! And get this, firewood is FREE!
---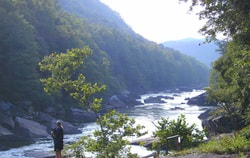 Close to Summersville Lake & Dam, Carnifex Ferry State Park and just minutes from the beautiful Gauley River, you're sure to find something fun to do while camping with us in the Gauley River National Recreation Area. Get away from it all! No commercialism here! Experience the wilderness and wonder of West Virginia as only a native West Virginian could.
Very affordable, for just $15.00 per person per day if you bring your own gear. Kids age 7 - 13 are half-price at just $7.50 per day and children 6 and under are free. Pets are welcome but must remain on a leash at all times. Payments is required when you make a reservation. A full refund will be given with 30 days notice. Click
here
to make your reservations today or call (304) 619-7332.
Reservations are not required during Gauley season.
We're used to late arrivals during Gauley season and keep the Registration Booth open very late, so please come to the Registration Booth to register no matter how late you arrive.
See
Group Camping and Special Events
page for groups of 10 and over.
Submit your questions about camping on the farm on our
Contact Us
page.
---
The Nut House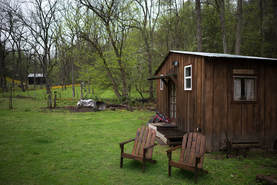 The Nut House, while still primitive, is a cozy little cabin that you'll appreciate on a rainy day or chilly night. It's basically a two-room cabin which has a bedroom and a sitting room. The bedroom is furnished with an antique double roll-away bed and the sitting room has a double futon.
Here's a little background on the cabin and why it's called "The Nut House."

---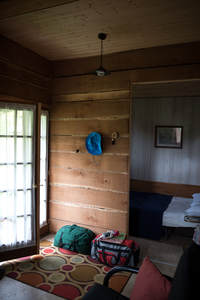 ​Since moving here in 2002, we've always tried to be self-sustaining, to let the land provide for us without raping it, and never waste anything. We're big believers in Recycle, Reuse, and Reduce. The Nut House was a project that James undertook to provide campers an alternate choice of lodging yet still staying simple and primitive. It was built with sweat equity (James's alone) and recycled and reused items were used whenever possible. The wood used to build the cabin (poplar, black walnut, cherry and butternut – hence, the name Nut House) came from trees that were downed during the epic June 29, 2012 derecho storm that hit West Virginia and were milled by James. Two of the windows came from a very old trailer that was left on the property when we bought it.

---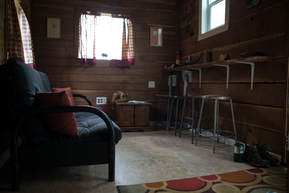 ​The interior is chinked with wool from our sheep. We have also installed solar lights. The cabin can sleep up to 4 adults. There is one full-size bed (a 1950's roll-away bed) and one full-size futon. Pillows are provided. You will need to provide your own bed linens or sleeping bags. It has a tin roof perfect for those rainy nights and a creek that runs behind it. The cabin was made with the least amount of purchased items as possible, so we could keep the rental price low. We provide park-style grills, fire pit grills and camping cook stoves for your use and firewood is free! Charcoal is also available. All you have to do is throw a couple of sleeping bags in the car and pack a cooler full of camping grub. Oh, and don't forget your hiking shoes! Although the campground is pet friendly, we do not allow pets
inside
the cabin.​​
All that being said, we hope you will decide to check it out for yourself.
The rental price is $25.00 per night for 1 person, $45.00 per night for 2 people and $75.00 per night for 3-4 people
.
There is also a refundable damage deposit of $50.00.
​Additional photos can be seen
here
.
---
The Tipi Tent at Tawney Farm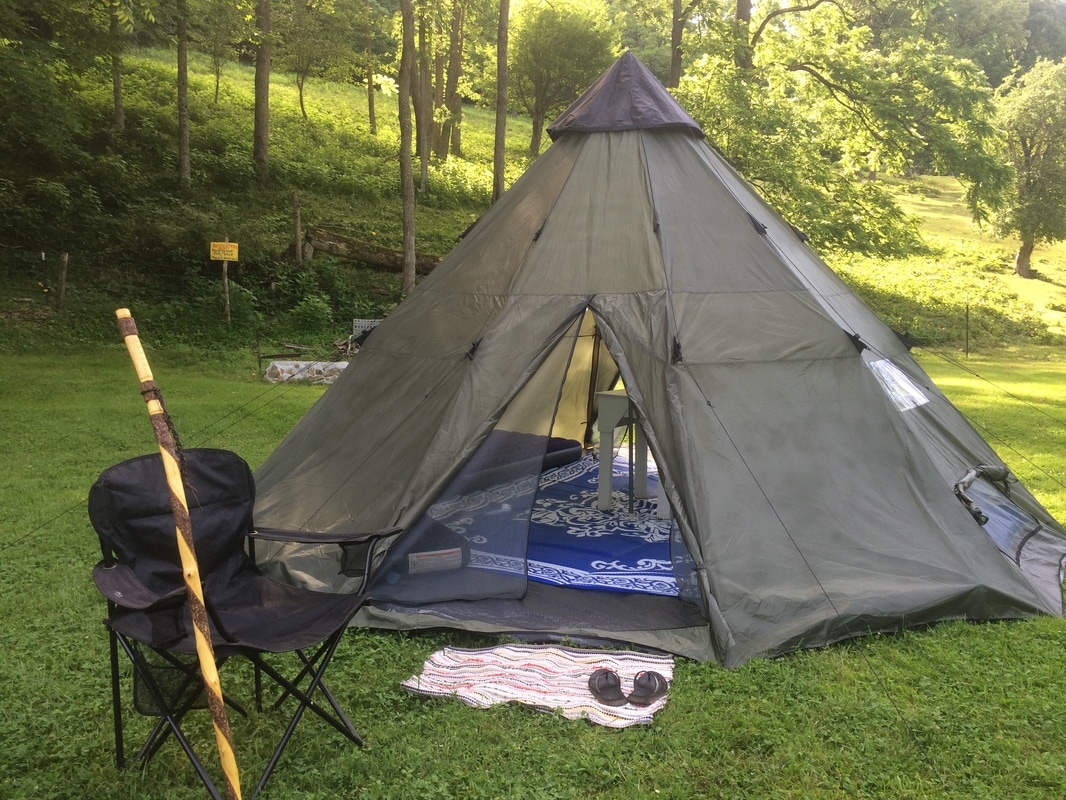 Make a break for the mountains! Don't worry about packing a bunch of gear. We've got you covered! Just throw the sleeping bags and cooler full of food in the car and head our way! The tent is super spacious and is furnished with up to 4 air mattresses, a table and a lantern. The rental includes use of the park-style grills, fire pit grill and even a camping cook stove. Fire wood is free and we'll even through in some charcoal. We've got shelters to cook under and camp chairs you can use. Seriously, we've got you covered!
The rental price is $25.00 per night for 1 person, $45.00 per night for 2 people and $75.00 per night for 3-4 people
.
A refundable damage deposit of $50.00 is also required.


Additional photos can be seen
here
.
Gauley Adventure!!!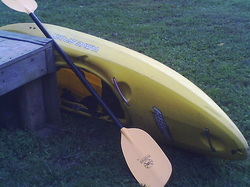 A Kayaker's or River Surfer's Dream!
We love kayakers and river surfers. And you'll love our location! Right on the Middle Gauley, our farm adjoins the Gauley River National Recreation Area and is located only yards away from the Mason Branch river access and the Perfect Wave. We open our main pasture field for camping during Gauley season to accommodate kayakers and rafters. Run the river all day knowing your campsite is secure then relax at your campsite without leaving the area. We kick off Gauley season with live bands both Friday and Saturday night and the price is $15.00 per person per night that weekend. Any other day during Gauley season is $10.00 per person per night. As a service to our Gauley season guests, we can store your car or gear after check-out for a $5.00 fee. If you want to run the river all day, but not spend another night, we can keep your gear safe and secure. Everything must be picked up by 6 p.m. If you decide to spend another night after all, we'll deduct the $5.00 fee from the cost of camping. Book your stay now for this year's Gauley season.
---