The Old Mill Stage - Entertainment Venue
---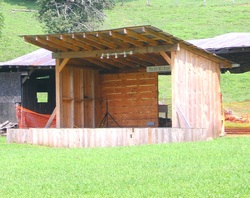 A part of the Gauley River Wild & Woolly Primitive Campground, our
Old Mill Stage
is an extension of an old sawmill. We provide live music on certain weekends. Check below for the schedule. Our stage and event field is available as an outdoor entertainment venue for private parties, family reunions, concerts and music festivals. Your group can rent the stage for a single event or offer overnight camping with your event. For pricing and more information, see the
Group Camping and Special Events
page.
If you're a local band and would like to play at the Old Mill Stage, let us know by filling out the
Contact Us
page.
---
2017 Schedule
Friday, Sept. 8
Meaghan Farrell
The Allegheny Ramblers

Saturday, Sept. 9
Emmalea Deal
The Allegheny Ramblers
The Gauley River Jam 2017September 8th & 9th, 2017

Returning for their second Gauley River Jam,

The Allegheny Ramblers

came to existence by the chance meeting of members Leon "Burt" Hart, Travis Holliday, Ryan Spangenberg, and Robbie Mann at the crossroads of Glenville, WV. Through a shared appreciation for traditional music and beyond, the four have been wandering the hills of Appalachia and regions outside since 2013, learning and sharing songs and tales of the mountains they call home.

Emmalea is a Singer/Songwriter from West Virginia. She has been performing since she was 7 years old. She discovered early that music was what she wanted to do with her life. Emmalea recorded an album at the age of 13 and has traveled and sang in South Carolina, Kentucky, Tennessee, Pennsylvania, West Virginia and other various states. She has worked with award winning writers and producers and is currently a PCG Nashville recording artist. Emmalea is a lover of all genres of music. While she covers all types of tunes in her own style, her original style draws inspiration from Alternative Pop/Rock.
AND, we're super pleased to welcome Meaghan Farrell to the Gauley River Jam! Meaghan recently moved to Nashville after a long and beloved life in New York City. She first started writing songs after overcoming a battle with substance and alcohol abuse, and through sobriety found that music was her savior. Realizing that through this expression of herself in words, singing and performing, she could possibly heal herself and help others.Her first LP "Waitress" was written in 2009 and released in 2010 & produced by the brilliant Marc Osborn. This album contains the first songs that Meaghan had ever written. Each song filled with her life as a newly sober, broken-hearted waitress in a busy NY restaurant. "Seeing Clearly Now" is her sophomore EP (released in 2012) and embraced life after the party and all the emotions that come with it. Meaghan released her Pop/Rock EP "East Coast Girl" where Meaghan sang of her hometown, lazy lovers, her battle with anxiety attacks and the power that positivity can bring to yourself and the world. Now in Nashville, Meaghan is writing her truest words yet, playing alongside some of the most influential songwriters in town. Meaghan released "Long Shot" in May 2017!! ​

Don't miss out! Kick off Gauley season with us at the Gauley River Wild & Woolly Campground!

Tickets are $15.00 per person per night and includes overnight camping.

​