The Old Mill Stage - Entertainment Venue
---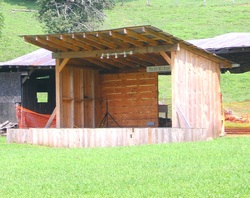 A part of the Gauley River Wild & Woolly Primitive Campground, our
Old Mill Stage
is an extension of an old sawmill. We provide live music on certain weekends. Check below for the schedule. Our stage and event field is available as an outdoor entertainment venue for private parties, family reunions, concerts and music festivals. Your group can rent the stage for a single event or offer overnight camping with your event. For pricing and more information, see the
Group Camping and Special Events
page.
If you're a local band and would like to play at the Old Mill Stage, let us know by filling out the
Contact Us
page.
---
2016 Schedule

Friday, July 22, 2016 - Cancelled due to flooding
The Band Wagon
The Allegheny Ramblers

Saturday, July 23, 2016 - Cancelled due to flooding
Emmalea Deal
T. Paige Dalporto
2 Johns
The Allegheny Ramblers

Friday, September 9, 2016
The Allegheny Ramblers

Saturday, September 10, 2016
The Coteries
​The Allegheny Ramblers

---

Scheduled Special Events

The 2nd Annual
Wild & Woolly Festival: Music & Mountain Traditions on the Gauley
July 22 - 24, 2016
The Gauley River Jam 2016September 9th & 10th, 2016
Returning for their second Gauley River Jam,
The Allegheny Ramblers
came to existence by the chance meeting of members Leon "Burt" Hart, Travis Holliday, Ryan Spangenberg, and Robbie Mann at the crossroads of Glenville, WV. Through a shared appreciation for traditional music and beyond, the four have been wandering the hills of Appalachia and regions outside since 2013, learning and sharing songs and tales of the mountains they call home.
We're also very pleased to welcome this year
The Coteries
from South Orange, New Jersey.
Born out of the midst of an 11,000 mile North American road trip, The Coteries bring you Folk Rock music steeped in their travels and the back roads of the American countryside. Just two summers ago the female-fronted trio found their footing behind the wheel of their old VW Bus, Trusty Rusty. Aside for some freezing August nights in the mountains of Wyoming and Montana, it was the best decision of their lives.
With over 150 shows in their inaugural year, they're continuing their momentum into 2016.
Dawning acoustic guitars, a mandolin, harmonicas, and a stomp box, The Coteries are eagerly anticipating the release of their first full-length album this Summer.
Don't miss out! Kick off Gauley season with us at the Gauley River Wild & Woolly Campground!
​